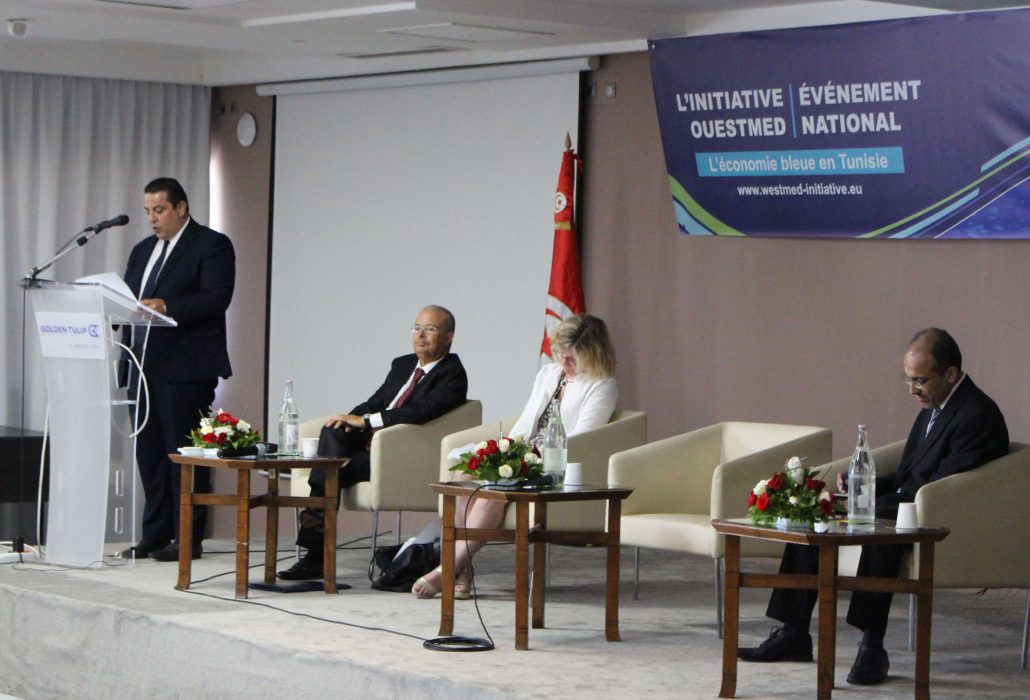 The National  Hub Tunisia of the WestMED Initiative organized on 30 June 2020 in Tunis, the national event on " The blue economy in Tunisia" which brought together more than 100 people including government officials, the European Union delegation in Tunis, companies, associations,  academics and researchers.
The purpose of this event was to advance the WestMED Initiative and to support Tunisia in developing a sustainable blue economy strategy based on modernising traditional sectors such as fishing, tourism, maritime transport … and promoting emerging sectors such as marine biotechnology, aquaculture, pesca-tourism, clustering, exploitation of of fish products and renewable energies linked to the sea, etc.
At the opening of the event, and after the presentation of the WestMED Initiative by the Tunisian National Hub, Mr. Chokri Ben Hassen, Tunisian Minister for the Environment, Ms. Sophie Vanhaeverbeke, head of cooperation at the Delegation of the European Union in Tunisia and Mr. Sabri Chaabani, national coordinator of the project underlined their common vision of a sustainable blue economy in Tunisia and the Mediterranean. A modern blue economy based on an alliance between the states bordering the Mediterranean. An alliance for the implementation of the road map of the "Green deal", the European green pact promulgated by the European Union in response to the economic crisis that we are going through with Covid19.
The speakers recalled the many maritime assets of Tunisia including more than 1,650 km of coastline, a maritime area of ​​135,000 km2, a very large infrastructure in commercial ports and fishing ports, a quite varied maritime and port professions, an active artisanal fishing fleet, a very developed seaside activity and the majority of foreign trade (95%) which transits by sea.
However, several weaknesses need to be addressed. They concern in particular the fragility of sensitive maritime areas, the density of international shipping traffic not far from the coast, with potential risks of accidents and pollution and poor coordination between the many stakeholders in the sea.
Elements of an integrated maritime policy and a blue economy strategy have been proposed with action plans for several sectors. These plans were the subject of a very rich debate with a strong intervention of the civil society which insisted on the need for the protection of the environment against the pollution of plastics, ships and industrial waste and to face illegal fishing, especially off the Mahdia-Gulf of Gabes area
Finally, speakers supported the idea that Tunisia can benefit from all sectors of the sustainable blue economy. It can thus transform its development model with research, investments for economic, social and environmental activities with high added value offering numerous opportunities for qualified jobs. They insisted on cooperation with the European Union and other international institutions to make this objective a reality.
More information
In the media
in French
Tunisie : Préparation de la stratégie d'économie bleue
Economie bleue : Pour une croissance durable et inclusive
La Tunisie délaisse l'économie bleue, malgré un important potentiel
Tunisie: un événement sur "l'économie bleue" en Tunisie le 30 juin 
in Arabic
تونس انطلقت في إعداد استراتجيتها لتركيز أسس الإقتصاد الأزرق
تونس انطلقت في إعداد استراتجيتها لتركيز أسس الإقتصاد الأزرق في اطار توجه متوسطي
تونس انطلقت في إعداد استراتيجيتها لتركيز أسس الاقتصاد الأزرق
https://westmed-initiative.ec.europa.eu/wp-content/uploads/2022/08/new-westmed-ec-enfold-logo-website-def2.png
0
0
National Hub Tunisia
https://westmed-initiative.ec.europa.eu/wp-content/uploads/2022/08/new-westmed-ec-enfold-logo-website-def2.png
National Hub Tunisia
2020-07-01 11:54:01
2020-07-14 08:50:36
WestMED National Event in Tunisia advances development of a Blue Economy Strategy