Workshop "Fostering Ocean Innovations – Sustainable Ocean Economy between the Mediterranean's Northern and Southern Shores | 4 September 2023 | Hybrid (Naples-Online)
04 September 2023 - 04 September 2023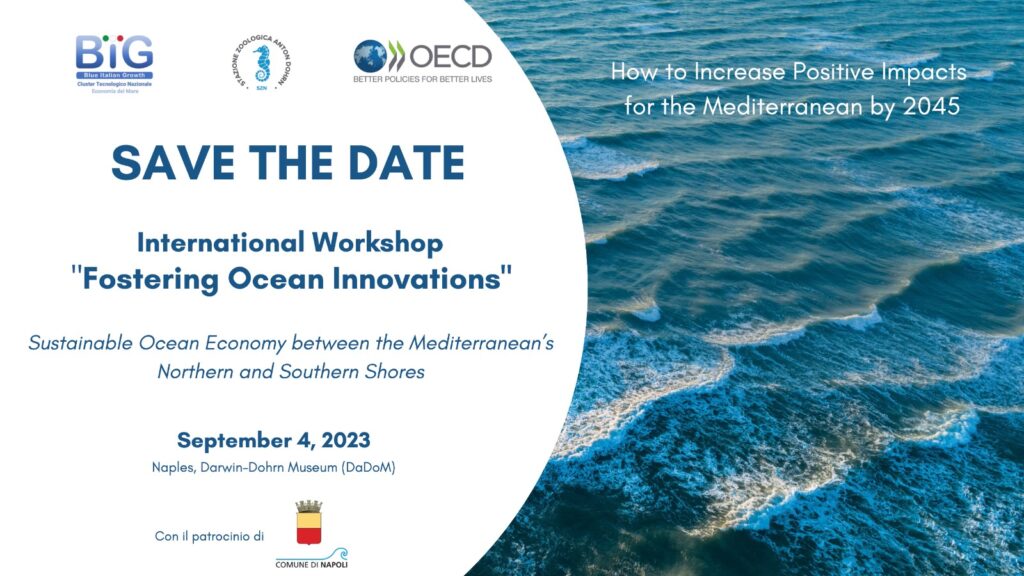 With active participitation by the WestMED Assistance Mechanism with its WestMED Clusters Alliance and the WestMED National Hub for Italy
There is an increasing need to protect our ocean and waters. To do so, a high level of innovation, entrepreneurship and technology (transfer) will have to be accomplished to induce positive impact and change.
A crucial step is to analyse what the developments, priorities and actions are in these fields, to increase sustainability, with a  crucial role for clusters and MSP to foster this process.
The OECD, Cluster Blue Italian Growth and Stazione Zoologica Anton Dohrn, with the institutional support of Comune di Napoli, and the involvement of high level experts, will organise this workshop in which these issues will be tackled and in which visions will be shared on ambitions and expected actions towards 2045 – with a specific focus on the Mediterranean sea basin.  This, from different sectorial and international perspectives that cover both the northern and southern shore countries.
Where: Darwin Dohrn Museum (DaDoM), Naples, Italy | 09:00-16:00
For further information please call (+39) 3347967320 or send a mail to clusterbig@gmail.com
Registration for in-person attendance closed on august 25 / Online participation still possible. The link is in the agenda