A WestMED workshop was held at the Salon Halieutis, in the 22th February 2019. It was attended by more than a hundred persons coming from private and public sectors, fishermen, fishery Department, students, and other blue economy stakeholders. The event aimed to promote and to present the WestMed Initiative and its implementation in Morocco.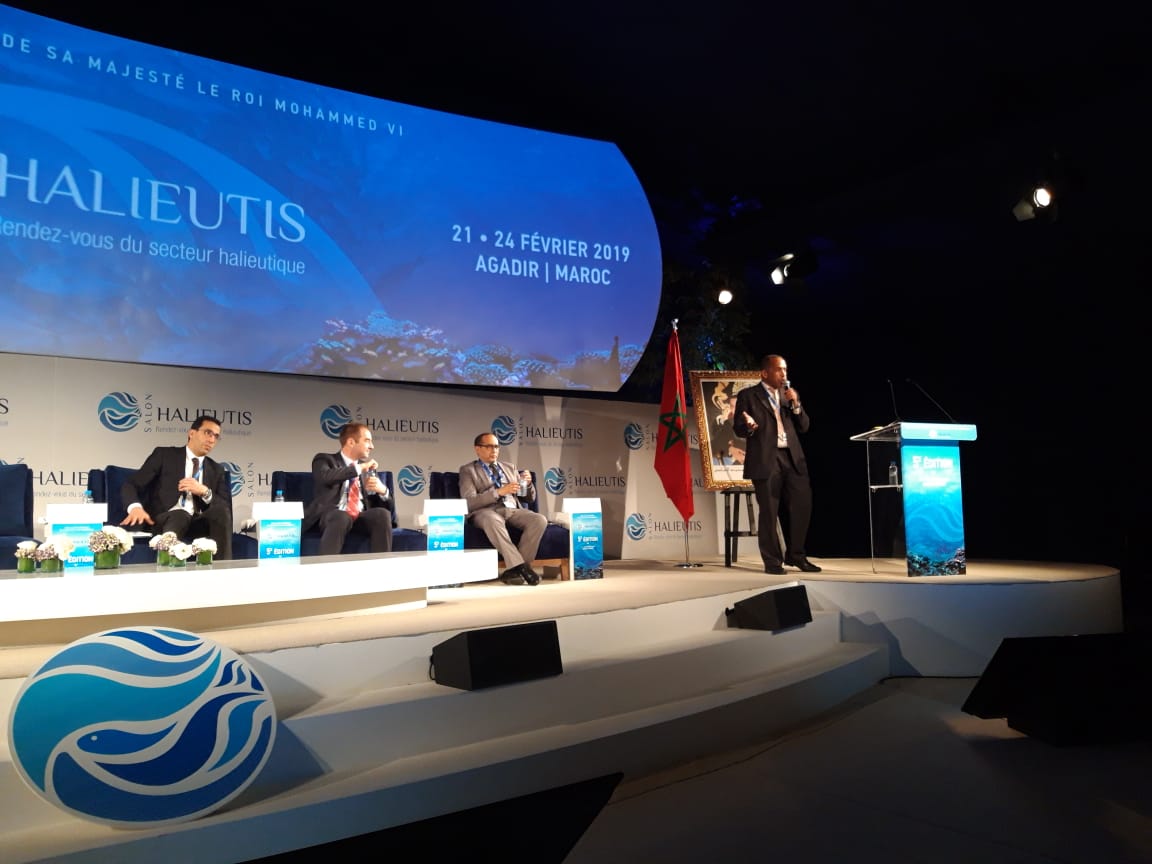 The opening of the workshop was conducted by Mr. Yassine el Arroussi, representing the Moroccan Fishery Department. He welcomed the participants and thanked the EU Delegation in Morocco and the National Hub of France, for their participation in the workshop. He mentioned the major objectives of the Westmed initiative and recalled that it represents a part of the Moroccan blue economy strategy, initiated by the blue belt Initiative launched by Morocco during the COP22 of the Climate Change.
Mr. Didier Nils, head of the Cooperation section, Delegation of the European Union in Morocco, explained that the WestMED Initiative is a large scale program and that the EU in general as well as its Delegation in Rabat are fully supporting this Initiative. He also recalled the strengths of the region in the blue economy sector and the challenges facing the development of the region. He encouraged to benefit from all available funds.
Mr. Aomar Bourhim, Moroccan WestMed coordinator, recalled that the workshop is part of a series of workshops that were already held to promote WestMed Initiative in Morocco. He also presented the countries and the partners involved in the Initiative. In his speech, he also evoked the context and the history of the initiative and its importance for the sustainable development.
Mr. Mohammed Malouli Idrissi, Moroccan National Hub, recalled the priorities for action adopted according the Algiers Declaration, the priority actions for Morocco and the objectives of the Initiative and their related goals. He also drew up the roles and objectives of the assistance mechanism, in particular the National Hub. And finally, he presented a list of possible funds.
Mr. Herpers, French National Hub, clarified that the WestMED Initiative is part of a pro-active cooperation logic that aims to support the development of the blue economy. He explained the organization of the Assistance Mechanism, the National Hubs mission, and enounced that the steering committee is now studying the feasibility of labeling projects related to the Initiative priorities to support them while applying in European calls. He mentioned the project ideas that followed the lab activities in Algiers conference.
At the end of the event, the participants asked some questions about future projects and the possibility of integrating these projects. Explanations were given by the panelists.
Besides the organization of the workshop, the assistance mechanism was, since the beginning of Halieutis Salon present and continuously active at the EU Delegation stand, in order to promote the Initiative and the opportunities it provides. As a result, Mr. Ayman Jghab, Moroccan National Hub assistant, conducted more than twenty meeting with professionals, entrepreneurs, public institutions representatives, and blue economy stakeholders.
https://westmed-initiative.ec.europa.eu/wp-content/uploads/2022/08/new-westmed-ec-enfold-logo-website-def2.png
0
0
Egbert Hoogstad
https://westmed-initiative.ec.europa.eu/wp-content/uploads/2022/08/new-westmed-ec-enfold-logo-website-def2.png
Egbert Hoogstad
2019-02-23 19:12:20
2019-05-31 08:20:32
More than 100 stakeholders at the WestMED Workshop Agadir