Sun&Blue Congress 2023 with WestMED sessions | 15-17 November 2023 | Almería, Spain
15 November 2023 - 17 November 2023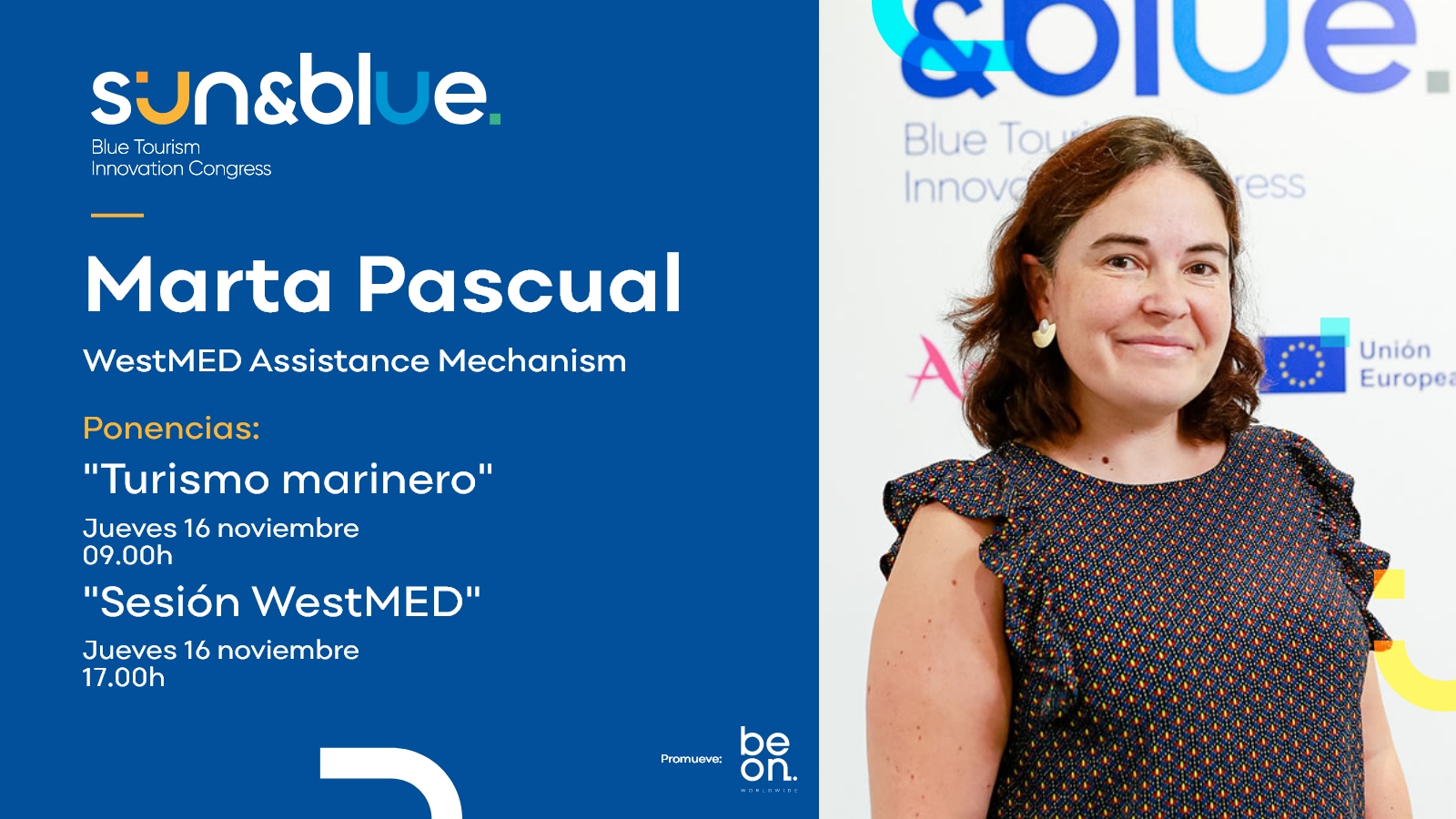 UNIQUE WESTMED DISCOUNT CODE: SBWEST20
The Sun&Blue Congress is focused on Blue Tourism Innovation.
The agenda is tourist-centric. The goal is to focus on tourist satisfaction, quality of experiences, accessibility of services and the long-term sustainability of activities.
This congress takes place in Almería from 15-17 November and held at the "Cabo de Gata – Ciudad de Almería" Exhibition and Conference Center. The congress is promoted by beon. Worldwide and sponsored by the Andalusian Ministry of Tourism, Culture, and Sports, the Almería City Council, the Almería Provincial Council, and the Andalusian Ministry of Sustainability, Environment, and Blue Economy.
Tackling Today's Tourism challenges
This congress arises from the global challenges that institutions, businesses, and science must confront to build a more sustainable world. It underscores the crucil role of tourism as a driver of Blue economic activity along coastlines, seas, rivers, and lakes. Moreover, it highlights innovative business strategies and progressive public policies that transform the way business is conducted and destinations are developed, aligning with the Sustainable Development Goals (SDGs).
For three days, stakeholders in the blue tourism sector, including hotel chains, gastronomy groups, tour operators, travel agencies, and other tourism-related entities, along with those responsible for the marine environment and natural resource conservation, will collaborate to move from theory to joint action. They will share strategies, success stories, experiences and establish high-level relationships in order to innovate, differentiate and stand out in terms of Blue Tourism, Sustainability and Impact Economy.
Wide support from national and international organisations
The Sun&Blue Congress has the support of more than 25 national and international organizations, entities and associations related to tourism and the Blue Economy. Some of these are:  Turespaña, Segittur, CEOE (Spanish Confederation of Employers' Organizations), CEA (Andalusian Confederation of Employers), WestMED, AMETIC, Suncruise Andalucía, Atlazul, ASEMPAL (Business Confederation of the Province of Almería), Ecomar Foundation, ICTE (Spanish Tourism Quality Institute), FEAPDT (Spanish Federation of Marinas and Tourist Ports Associations), ADEAC (Environmental and Consumer Education Association), Sustainable Restaurants Foundation, RECI (Smart Cities Network), Digital Tourism and Coastal Chair at the University of Malaga, Discover Foundation, Andalucía Ecoactiva, ADESTIC (Cluster of Innovative Companies for Tourism in the Valencian Community), and Andalusian Institute of Professional Diving – Benalmádena Diving Center.

WestMED Support/ Sessions
WestMED actively supports the Sun&Blue Congress, both through its direct involvement in shaping the programme, as well as  through various  plenary sessions
16 November (9:00-10:00 – Sala 2), WestMED organizes a session on Marine Tourism. The sector, the opportunities for future development as well as barriers encountered will be discussed through the intervention of three national businesses that are currently working on maritime tourism activities.
16 November (17:00-18:00 – Sala 2), WestMED presents what the Initiative is about, what activities have been developed  and what opportunities and funding blue tourism stakeholders are offered through the EU Blue Economy Strategy.
17 November (10:00 – 10:45 – Sala 1), Mr. Manuel Pleguezuelo presents the European Blue Strategy in detail.
17 November (11:00 – 14:00 CET), the WestMED organises a parallel meeting to discuss the potential creation of a "National Marine Tourism Network" which could gather all the various marine tourism initiatives, business and activities that are currently taking place in Spain. Participation will be invitation only.
Sun&Blue Tourism Awards
WestMED will also take part in the jury for the selection of the "Ist EDITION OF THE SUN&BLUE CONGRESS 2023 AWARDS". Applications are open. Find out more about the awards and how to submit your initiative
Visit the Sun&Blue website for more information and registration.
Read also: 'Marta Pascual, WestMED National Hub Spain, appointed to the Sun&Blue Advisory Board'