The European Commission has launched on 13 September the Blue Invest Platform which aims to support investment readiness and access to finance for early-stage businesses, SMEs and scale-ups in the blue economy.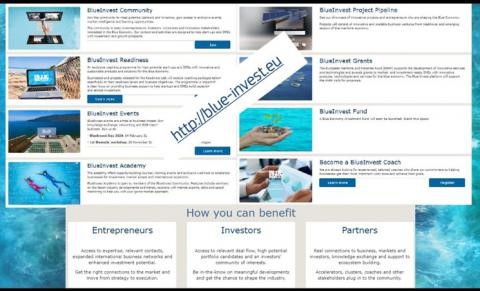 The Blue Invest Platform provides the following services:
BlueInvest Community
The community is open to entrepreneurs, investors, corporates and innovation stakeholders interested in the Blue Economy. Our content and activities are designed to help start-ups and SMEs with investment and growth prospects.
BlueInvest Readiness Assistance
An exclusive coaching programme for high potential start-ups and SMEs with innovative and sustainable products and solutions for the Blue Economy.
Businesses and projects selected for the Readiness Lab will receive coaching packages tailored specifically to their readiness levels and business objectives. The programme is impact-driven, with a clear focus on providing business support to help startups and SMEs build capacities for growth and attract investment.
BlueInvest Events
BlueInvest events are aimed at business impact. Events will feature learning opportunities, knowledge exchange, networking and B2B matchmaking, in formats designed to transform business. Join us at:
– BlueInvest Day 2020. 04 February 2020, Brussels
– 1st thematic workshop. 26 November 2019 @ WindEurope Offshore, Copenhagen
BlueInvest Academy
The academy offers capacity-building courses, training events and exclusive webinars to accelerate businesses for investment, market access and international expansion.
BlueInvest Academy is open to members of the BlueInvest Community. Features include seminars on the latest industry developments and trends, sessions with market experts, talks and speed mentoring to help you with your go-to-market approach.
BlueInvest Pipeline
See our showcase of innovative projects and entrepreneurs who are shaping the Blue Economy.
Projects will consist of innovative and scalable business ventures from traditional and emerging sectors of the maritime economy.
How you can benefit:
entrepreneur to gain access to expertise, relevant contacts, expanded international business networks and enhanced investment potential. Get the right connections to the market and move from strategy to execution;
investor to access to relevant deal flow, high potential portfolio candidates and an investors' community of interests, to be in-the-know on meaningful developments and get the chance to shape the industry;
partner to get real connections to business, markets and investors, knowledge exchange and support to ecosystem building.
All the information is available on the Blue Invest Platform.
https://westmed-initiative.ec.europa.eu/wp-content/uploads/2022/08/new-westmed-ec-enfold-logo-website-def2.png
0
0
Communication team
https://westmed-initiative.ec.europa.eu/wp-content/uploads/2022/08/new-westmed-ec-enfold-logo-website-def2.png
Communication team
2019-09-18 14:23:48
2019-09-18 14:25:22
Launch of the BlueInvest Platform